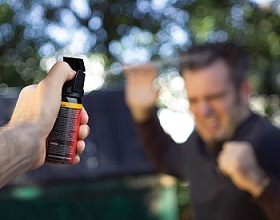 Cost is $80
Used correctly, pepper spray is a valuable self-defense tool. The difficulty is knowing how to use it.

Pepper Spray I is a 2-hour class covering what a person needs to know legally, tactically and ethically before they carry pepper spray.

Topics include:

•Mass Law of Self Defense and Your Legal Obligations
•Effects of Pepper Spray
•Different Spray Choices
•The Draw from Multiple Positions
•Strategies Which Allow You to Maintain the Tactical Advantage Over Your Opponent


No pepper spray is needed for this course.

The instructor for this class is a law enforcement professional who is Pepper Spray, Use of Force, and Less Lethal certified.
Instructor Bio:
Christopher Doherty

Emergency First Aid, Women's Handgun & Self Defense, Countering The Mass Shooter Threat,
SABRE Pepper Spray Instructor, NRA Basic Pistol, Home Firearm Safety, Personal Protection Inside the Home
Refuse to Be a Victim, USCCA Range Safety Officer, USCCA Concealed Carry & Home Defense Fundamentals